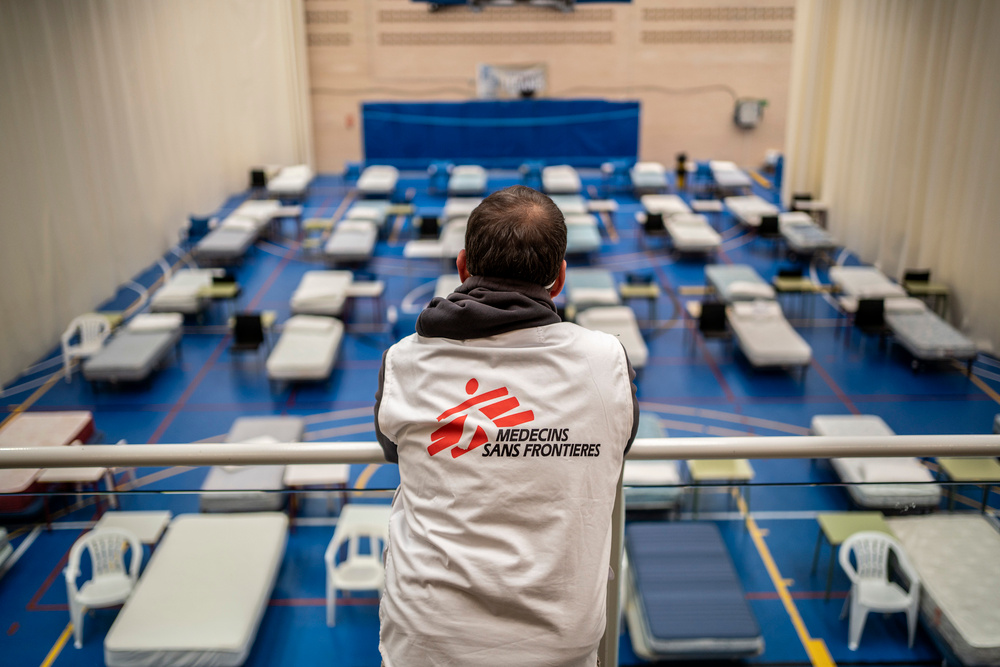 © Zdjęcie: Olmo Calvo
Job offer: Base and Facilities Officer (Pracownik ds. Utrzymania Budynków i Floty Samochodowej) (REKRUTACJA ZAKOŃCZONA)
Médecins Sans Frontières (MSF) is an international, private and independent medical humanitarian organisation. It was founded in 1971 by a group of French doctors and journalists. MSF provides medical aid in more than 80 countries worldwide. Whether it is war-wounded people in Yemen, displaced populations in South Sudan or patients with tuberculosis in Central Asia. The projects are targeted especially at people in need who do not have access to sufficient medical treatment or who are excluded from aid.
MSF is committed to promote diversity and select our staff purely based on required competencies. It´s culture is based on collaboration, diversity and accountability.
The MSF Poland Branch Office raises private funds for MSF's work and mission, attracts qualified and experienced field workers from Poland, bears witness about the plight of the people we treat and strengthen humanitarian discourses.
Being employed by MSF means adhering to MSF's humanitarian principles: neutrality, impartiality and independence. The beneficiaries of MSF – the patients – are at core of anything that MSF does. Medical ethics
and volunteerism are part of the MSF spirit.
Terms of Reference
Position: Base and Facilities Officer
Job location: Przemyśl
Job dimension: Full time job (100%)
Start date position: Asap
Contract: Two months employment contract, with possibility to extend
Salary: 5,200 PLN gross/month for the full-time job.
Tasks
• Planning vehicle movements, tracking individual trips, and ensuring implementation of security measures
• Tracking consumption of supplies, fuel, lubricants, used in different facilities (office, house, store, etc.).
• Checking the maintenance of the various open spaces (gardens, courtyards…) and ensuring that domestic waste is correctly discarded
• Checking and ensuring the maintenance of MSF premises and facilities, as well as the general water supply, electrical, walls, ceilings etc. and security conditions. In this sense, making inspection visits to assess the rehabilitation needs of facilities.
• Performing maintenance of logistics equipment for cold chain, energy, IT and radio communications, in particular:
• Inventories and the reallocation of equipment.
• Performing first-line IT troubleshooting and referring complex IT issues to line manager.
• Performing minor repairs when possible, contacting external providers when necessary, and following-up on Job Requests.
• Checking the quality of the work carried out on facilities by external service providers.
• Preparing orders for his sector activity, do the follow-up, and checking their proper reception and state.
• Carrying out local purchases and ensuring that the line manager is aware of any problems linked to the quality or availability of the items to be purchased.
• Participating in trainings at the request of the line manager.
• Elaborating, communicating, and following up on driver team rosters.
• Verifying proper completion of daily vehicle checklists, and communicating any issues noted to line manager.
• In case of need, driving MSF cars.
Requirements
Essential Secondary Education and Driving License.
Essential Computer literacy, basic IT troubleshooting, desirable
Desirable 2 years of previous driving experience
Desirable experience in team supervision/management
Desirable experience with all types of passenger vehicles (manual, automatic, 4×4, high-capacity)
Desirable experience in MSF or other NGOs
Polish (B2), English (basic to working knowledge)
Desirable knowledge of basic mechanics
Desirable knowledge of basic electrical, plumbing, mechanical, and construction maintenance
Good knowledge of mission area roads and labor laws
How to apply?

Piqued your interest? To apply for this role, please prepare your CV (in English) and a motivation letter (one page, in English) that summarises how your profile aligns with the key requirements, skills and abilities of this role. Please submit your application including certificates until the 20th of April 2022 by sending an email to Lauranne Gregoire (msfch-poland-EFinHRCo@geneva.msf.org).
Consent clause for submitting CV:
I agree to the processing of my personal data for the purpose of participating in the recruitment process conducted by the "Doctors without Borders" Foundation, based in Warsaw, at Emilii Plater 28 loc. IX/ALW (00-688 Warsaw), in accordance with the Regulation of the European Parliament and of the Council (EU) 2016/679 of 27 April 2016. on the protection of natural persons with regard to the processing of personal data and on the free movement of such data, and repealing Directive 95/46/EC (RODO) and in accordance with the Act of 10 May 2018 on the protection of personal data (Journal of Laws of 2018, item 1000). This consent also applies to the sharing of my data with potential employers, listed below. OCB: Médecins Sans Frontières – Belgium, a Belgian association situated at Rue de l'Arbre Bénit, 46 – 1050 Bruxelles, and registered in the Belgian Registry under RPM number: 0421.446.093 . OCA: Artsen zonder Grenzen, a Dutch association with its registered address at Plantage Middenlaan 14, 1018 DD, Amsterdam, The Netherlands and registered under number KVK 41215974 . OCG: Médecins Sans Frontières, a Swiss association with its registered address at rue de Lausanne 78, Geneva, and registered in the Swiss Registre du Commerce under IDE number: CHE-107.373.253 OCBA: Médicos Sin Fronteras, CIF: G58277534. Inscrita en el Registro Nacional de Asociaciones del Ministerio del Interior con el número 68.340 situated at Zamora 54, 08005 Barcelona, Spain, OCP: Médecins Sans Frontières – France, a French association situated at 14-34 avenue Jean-Jaurès, 75019 Paris, France.
Information clause for job applicants: We process your personal data specified in the Labour Code or other specific acts based on the provisions of law and providing such data is necessary to participate in the recruitment process. Other personal data (e.g. image, interests) is processed on the basis of your voluntary consent given by you while sending us your recruitment application and failure to provide such data does not affect the possibility of participation in the recruitment process. You have the right to access your data, including obtaining a copy of your data, correcting your data, requesting its deletion, limiting its processing, objecting to its processing and transferring the data provided (to which you have given your consent) to another data administrator. You also have the right to lodge a complaint to the President of the Office for Personal Data Protection. Withdrawal of consent does not affect the legality of processing, which was performed on the basis of consent before its withdrawal. We process your personal data for recruitment purposes for a period of 18 months. Your personal data may be accessed by job advertisement service providers, recruitment management system providers, IT service providers such as hosting and IT system providers. We do not transfer your personal data outside the European Economic Area. If you have any questions, you can contact our Data Protection Officer at: iod@warsaw.msf.org. You can withdraw your consent at any time by contacting us at iod@warsaw.msf.org